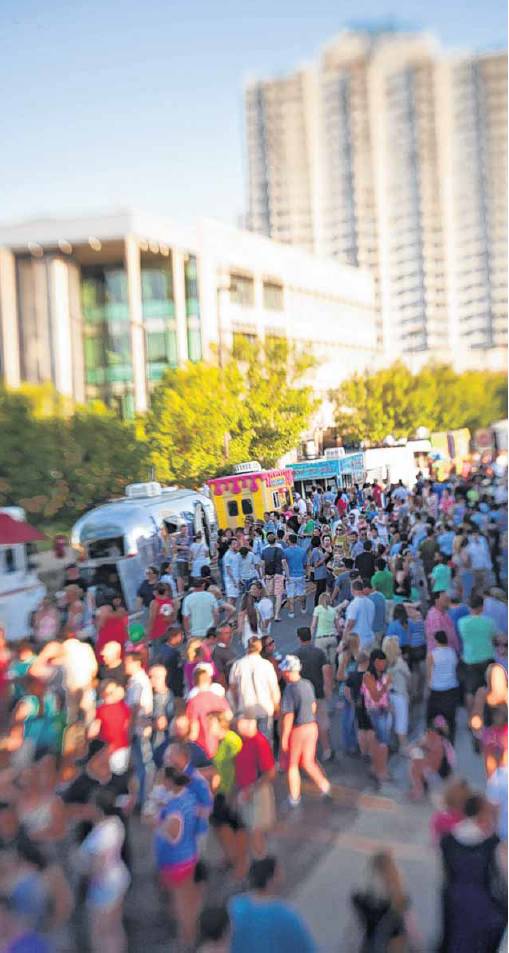 The quaint corners of the Midtown district in Oklahoma City are mostly quiet during the day. But one night a month, from the spring to the fall, the H&8th Night Market brings the downtown area alive with vibrant food trucks and live music. The nickname H&8th stands for the intersection where the event takes place, between Hudson and northwest 8th street.
"The point of all this is to create an Oklahoma City night on the town," said Brian Bergman, event coordinator for H&8th. "In the four-plus years we've been an event, Hudson Street was empty businesses, now they are full."
The festival strives to support local food trucks, a growing industry in Oklahoma, but Bergman thinks it is about more than just economics.
"We are really trying to provide something for the community," Bergman said. "A lot of the time it's not just food trucks and music, we also realize the most important part is for people to gather and hangout."
Sponsors such as Fowler Toyota of Norman, and the Oklahoma City School of Law help to get keep everything local, from the food to the music.
"Everything we do goes back to the event, there is no full-time staff," Bergman said.
"It's our number-one event, and we love doing it," said Corey Harris, owner of Off The Hook Seafood & More food truck. He said he has witnessed H&8th, along with Midtown, grow in the three years he has participated in the event.
"Every year it's grown surprisingly; it's grown so much it's broken records," Harris said.
H&8th started with 200 people and three food trucks in 2011, and has grown to approximately 20,000 to 40,000 people, and more than 30 food trucks attending each event, according to H&8th's website.
"If you come to H&8th, get there early and expect to stay there all day," said Holly Bigby, owner of Phill Me Up cheesesteaks. "Just don't expect to eat and leave."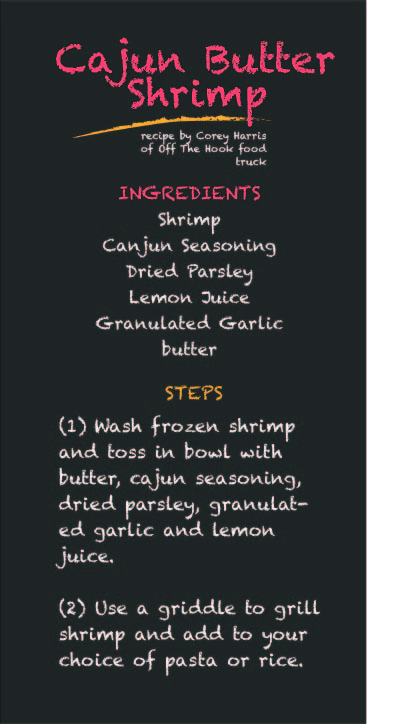 This week's event is on Friday, July 31. Both Off The Hook Seafood & More and Phill Me Up will be there, and plan to be ready for business by 7 pm.
For more information and a live food truck tracker, visit H&8th's website at http://www.h8thokc.com.
###
Corey Harris starts preparation for H&8th Night Market long before the night of the event. H&8th is a food truck festival that happens the last Friday of each month from March to October in Oklahoma City's Midtown district. The event was started four years ago by local restaurant owners to help make Midtown livelier. Harris' food truck — Off The Hook Seafood & More — has served up his unique dishes at H&8th for three seasons. Harris said he has always viewed food differently than others.
"I didn't just like regular, plain Ramen noodles. I would experiment, you know. Put hamburger meat in there, you know, onions and bell pepper," Harris said. "I would always try to make it different every time, and that's where I think a lot of my creativity comes from."
Harris recommends his super platter, which is a mixture of shrimp and fish. The side of fries is smothered with a lobster cream sauce of crabmeat, crawfish, baby clams and shrimp, and then topped off with fried onions, bacon, cheese and chives.
"If you like spice, we'll hit it with a little bit of sriracha sauce," Harris said.
In the accompanying video, Oklahoma Institute for Diversity in Journalism reporters Taylor and Skyla followed Harris as he shopped for the Friday, July 31, 2015, H&8th festival.