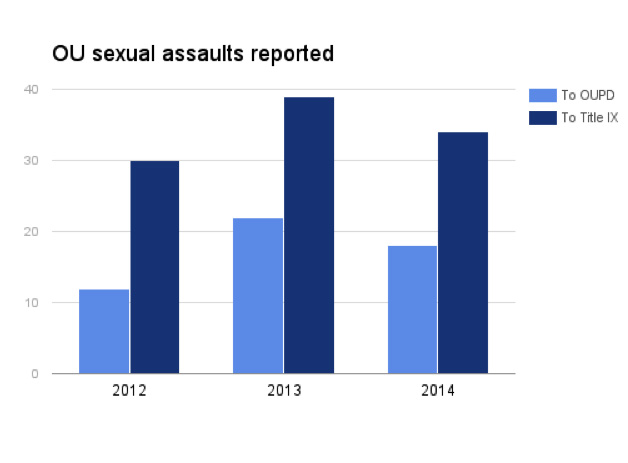 As the subject of campus rapes from Stanford to Baylor to Vanderbilt and beyond grab headlines across the nation, it resonates at the University of Oklahoma as well.
According to the 2015 Sooner Safety and Fire Report, OU had 12 sexual offenses reported to law enforcement in 2012, 22 in 2013 and 18 in 2014. However, many more cases have been reported to the Gender and Equality Offices, OU Advocates and Title IX. Data released to The Oklahoma Daily in fall 2015 shows the university's Title IX Office has received 70 more sexual assault reports since 2012 than the safety report shows.
National data reinforce the significance of what's come to be known as "rape culture" — an environment in which rape is prevalent and sexual violence is normalized. More than 11 percent of undergraduate and graduate students are raped at some time during their college careers, according to the 2015 Report on the Association of American Universities Campus Climate Survey on Sexual Assault and Sexual Misconduct. Furthermore, college women are twice as likely to be sexually assaulted than they are to be robbed.
It begs the question: Are more rapes occurring, or are more rapes being reported?
"We definitely see a change within the education," said Kasey Catlett, assistant director of OU's Gender + Equality Center. "We definitely see it when it comes to bystander effect and we see that people are more empowered to stand up when they see something and in addition we have more and more calls for ending advocacy, that doesn't mean that sexual assault is on the rise, it just means that people are aware of the services because gender-based violence is typically the most under-reported form of crime.
Catlett said another reason might be that more students feel equipped to do something. "(They) know that we have the resources and know how we can help."
Major Bruce Chan, the spokesman for OU's Police Department, echoed that.
"Since the number of rapes reported to us each year is relatively low, an increase of even one case represents a 25 percent increase," Chan said. "That does not necessarily indicate that more rapes are taking place, just that one more person wanted to make a report."
"As far as whether or not parties have anything to do with rape," Chan continued, "I would note that while few, if any, of the cases reported to OUPD took place at a party, nearly all involved the use of alcohol by one or both of the individuals involved."
OU provides educational programs to raise awareness of sexual assault, programs to educate the university community as well as services that also help survivors. OU police provide emergency response. The Division of Student Affairs provides counseling and support to survivors. The Institutional Equity and Title IX Office offers training on gender discrimination including sexual assault. Programs like "Step In, Speak Out", and One Sooner train students on sexual assault and how to prevent and stop it. Counseling services in Goddard Health Center from the OU Advocates and the Gender + Equality Center are all available to provide help and support for survivors of sexual assault.
Still, the U.S. Department of Justice in 2014 reported that nationally four out of five female students did not report their abuse because they believed it was a personal matter. The percentage of female student victims, ages 18-24, who report to law enforcement is only 20 percent.
"Peer pressure has to do a lot with the fact that not as many cases are reported," said an OU student named Brittany who did not want to give her last name. "People are scared to do something different and step away from their bubble and speak up. They don't want to intervene or step up and say anything."
While problems remain, Catlett and Chan hope to help educate students and keep them safe.
"More often than not, the students that typically come to us, seeking help, are freshmen and sophomores," Catlett said. "Mostly because they have a new sense of freedom, a lot of students come into a campus right out of high school, they haven't had the education over gender-based violence and when they get here, one, they no longer have their parents' support and they have the freedom and they can go to parties. I'm not saying that parties are a reason of rape and sexual violence, but it's an opportunity that perpetrators can take where there's an abundance of alcohol and those are key ingredients for perpetrators."