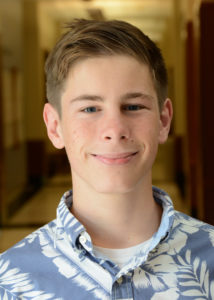 Today I woke up tired, which is really funny because I got at least eight hours of sleep. I have a room to myself, since I am the only guy here, and went to bed significantly early.
I was really nervous about today because at my school we do not have a writing club or program, and everyone here is involved in one. I thought today I wouldn't know as much as the other students, but it actually turns out I knew more than I thought.
We went to the Oklahoman, and we met some really great people. When we met one woman from Kenya, I found her really intriguing. She told us about herself and why she became a journalist.
When we came back to Gaylord, we went around the University of Oklahoma's (OU) campus.
I quickly fell in love with the library and the Great Reading Room.
A while later we got Starbucks, which I would say was the highlight of the tour. During the tour, Jeannette and I had a really great conversation about student council and college. I told her a little about BASIC and how it, in my opinion, is really amazing.
When we got back from the tour, we learned about interviewing and how it should be played out. After that I got even more curious on what journalism has to offer. Thankfully we met with the Dean, Ed, who told me and everyone else what Gaylord has to offer.
After dinner we met with Heather, and she taught us how to do a profile, which was very interesting. Something that really stood out to me was that everyone has something interesting about himself or herself that a profile can be based on. I would say my interesting thing would be I am looking at being a journalist, but I have not taken any journalism courses.
Coming into OIDJ, I had no idea what journalism had to offer. All I knew was that it was a job where I could write, but I quickly learned it is more than just writing: it is profiles, interviewing and a way to express yourself.
Going into today, I was reluctant and didn't know if journalism was for me.
Getting my completion certificate with OIDJ director, Dorion Billups on the final day.

I can't say that I know now what I want to do, but I think I am really considering journalism.
Being the only guy here is actually not bad at all. I find talking to people really interesting, and I enjoy getting to know more about people. I have an older sister so I know how to talk to girls and carry on a conversation with them. It is really easy when you have the same interests.